61. Sky Cloud WiFi
This one's a great way of automating the process of signing into a Sky-managed mobile Wi-Fi spot, minimising stressful time spent NOT being connected to a Wi-Fi hotspot. The Sky Cloud WiFi app senses Sky-friendly hotspots, then signs you in automatically. So no more fiddling about with a crappy 3G signal when out and about or typing in passwords in a hurry to use a bit of internet.
<![if !vml]>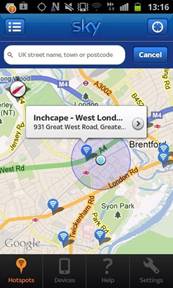 <![endif]>
62. Ticketmaster UK
After an age as a US-only exclusive, Ticketmaster UK is now live for Android users in the UK. It does what you might expect, offering a full database of events, complete with simple buying options from within the app. There's even a local search option for accessing a list of what's on near you, should you fancy taking a punt on some random artistic happening or gig.
<![if !vml]>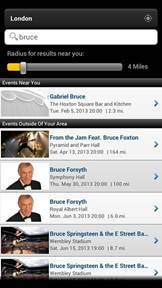 <![endif]>
63. Gumtree
The popular sofa-ditching site has finally joined the mobile age, with a very flashy Gumtree app. It's presented in the Ice Cream Sandwich design style, with a nice tab bar and clever floating and segmented item listings, and it looks even better when used in landscape orientation. Trawling for an executive massage in the local area has never been easier.
<![if !vml]>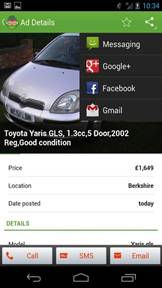 <![endif]>
64. The Guardian
The Guardian's had an Android app out for a while, but it was significantly "first generation" in look and feel. A recent update took care of that, thankfully, boosting the layout to modern Android standards, adding in support for live blogs, enhanced section navigation, swipe navigation through photo galleries and much more. Nice. And free.
<![if !vml]>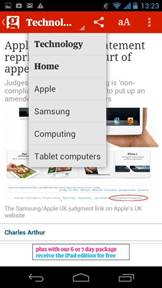 <![endif]>
65. HotUKDeals
The amazing bargain portal, which has actually defied its purpose and cost us millions through encouraging unnecessary impulse purchases of discounted gear, is on Android, with a very posh and feature-packedHotUKDeals app now available.
You can search for local deals, submit ones you've spotted yourself, with the app including an easy category view and search facility for finding new ways to buy things you don't really need.
<![if !vml]>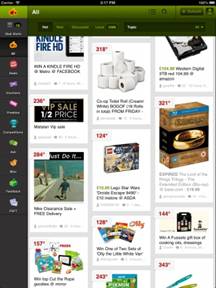 <![endif]>
66. Amazon MP3
Amazon's MP3 service is surprisingly clever. Tracks bought from the retail giant are automatically stored within the company's "cloud" servers, from where you can instantly stream them back to your Android device.
Sadly you're a little limited in the number of existing MP3s you can upload from your own collection, but for building, managing and streaming a legit Amazon music catalogue the Amazon MP3 app is a great, stylish option.
<![if !vml]>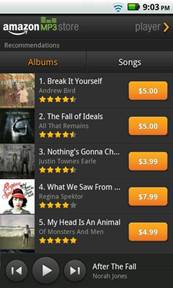 <![endif]>
67. TVCatchup
For those of you who still pore over listings and watch TV live, as it happens, and at the original time of broadcast, TVCatchup is for you. But it's not a "catch up" service at all. It's a simple re-broadcaster of the terrestrial Freeview channels, letting you watch everything, live, right there on a phone or tablet. A good test of how reliable your mobile data connection is, too.
<![if !vml]>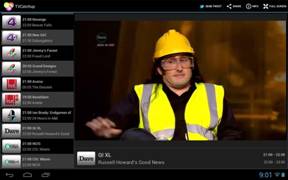 <![endif]>
68. Barclays Mobile Banking
The big banks are gradually moving away from mobile web sites and embracing full power apps, with the Barclays Mobile Banking option a particularly fine example. Logging in is a simpler task than accessing the desktop site, with the app just requiring a PIN number to access your data. It also cleverly works as a PIN Sentry card reader, ideal for managing Barclays services that need its pain-in-the-arse card reader to grant access.
<![if !vml]>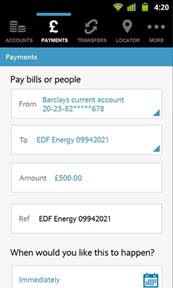 <![endif]>
69. Amazon Appstore
There's only one reason to have the Amazon Appstore on your phone or tablet - free stuff. Amazon is enticing users to stick its alternate Android app store on their devices with the promise of a free app every day, with some classics like Sega's ChucChu Rocket and World of Goo featuring as previous daily freebies. The catch is these are unsupported releases, meaning no updates or fixes in the future, but you can't moan too much about getting some ace freebies every day.
<![if !vml]>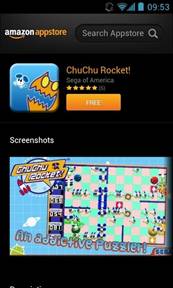 <![endif]>
70. Flipboard
Flipboard is pretty much just a posh RSS reader, which does a superb job of pulling text and images from pages, sites and social networks, and presenting it in a gloriously sexy magazine-like manner. The Flipboard app has recently been updated with a full tablet interface style, for the ultimate in glossy media consumption.
<![if !vml]>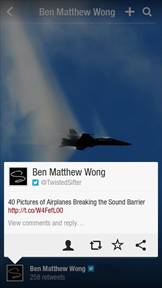 <![endif]>
71. BT Sport
The arrival of a new sporting season always brings with it a collection of new and exciting ways to keep up with action on your phone, with the BT Sport Android app one of the coolest to arrive this year.
It lets BT Internet users watch the company's new, live sport feeds on a phone or tablet. All you need are your BT login details and a bit of fuss to activate your account through the desktop site, and you're ready to go with live video on your mobile device of choice. More Claire Balding and rugby action than you can possibly handle awaits.
<![if !vml]>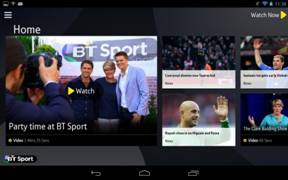 <![endif]>
72. Google Play Games
Google and its many games developer friends have been adding its backend gaming services to apps for a few months now, meaning many Android games now have a unified, Google-backed method of matchmaking, monitoring achievements and keeping track of play sessions.
The Play Games app is a simple frontend for it all, giving gamers a central hub to keep an eye on their game collections, score leaderboards and lists of friends made through the system.
<![if !vml]>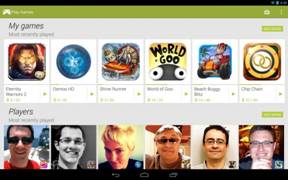 <![endif]>
73. YouView
The new interactive digital TV system has finally launched its YouView controller app on Google Play, letting Android users join their iOS cousins in having fun with their new YouView boxes on phones and tablets.
The app features boring stuff like seven-day programme listings and information, but it's the remote record feature that's the main reason to have it. Once setup via a paired code input system, up to five devices can be granted the power to make the box record shows while you're out.
<![if !vml]>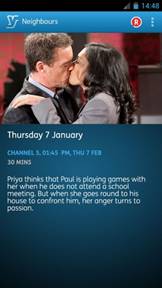 <![endif]>
74. BBC Weather
A substantial percentage of Google's 1,000,000+ Android apps are based around guesstimating what the weather's likely to be a bit like later today or tomorrow. But for a forecast that's perhaps slightly more locally aware and believable than others, head to the BBC.
The BBC Weather Android app's beautiful, featuring hourly breakdowns, a selection of smart Home screen widgets and UV/pollen forecasts thrown in too. Plus it uses the lovely old BBC weather icons, which add a touch of style to any overcast situation.
<![if !vml]>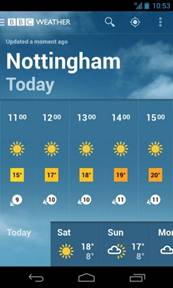 <![endif]>
75. Vine
The madly popular social video phenomenon eventually hit Android earlier this year after an infuriating period of exclusivity on Apple devices, with Android fans now able to see for themselves what all the fuss is about.
Vine is about one thing - a simple interface that lets you start and stop recording by touching the screen, and a six-second time limit. Clips are then reviewed, processed and uploaded to the Vine servers, for others to rate.
You might become star. Or just clog up the world's internet pipes with a trillion clips of your cat not doing anything out of its normal behaviour range.
<![if !vml]>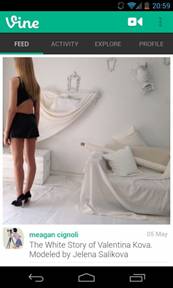 <![endif]>
76. BBC iPlayer Radio
The BBC's iPlayer app was always a little poor when it came to representing the corporation's radio channels, a situation that's been fixed by this stunning little app.
It's designed well, with a strange little wheel system letting users navigate through the available listings, plus the Beeb allows streaming to be conducted over both Wi-Fi and mobile data networks.
There's also a catch-up selection of past shows, plus a nice little clock radio tool to have it wake you up with the station of your choice.
<![if !vml]>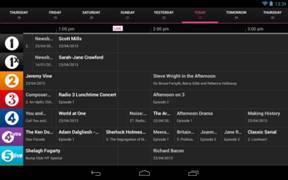 <![endif]>
77. Guardian Witness
Witness is the Guardian's attempt at getting its users to generate endless list features on its behalf for free, with the accompanying Android app letting the paper's readers contribute photos and stories through a phone or tablet.
The app lets you sign in with a Guardian, Twitter or Facebook account, although don't go expecting to "troll" the world with your UFO photographs - every submission's vetted before being made live. There are some special missions reserved only for users of the app, so it's worth trying if you're into the whole crowd-sourcing thing.
<![if !vml]>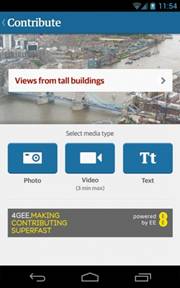 <![endif]>
78. Rando
Rando is sort of a social network, only with the social stuff removed. Its USP is that you share photos, which must be taken live, with random strangers around the world.
You have to take and send one in order to receive one back, making it into a weird form of photo-sharing tennis.
You might get something interesting from Japan, or a boring photo of a man's PC keyboard from closer to home. It's addictive. You can't help pinging them off and wondering what's going to come back in payment.
<![if !vml]>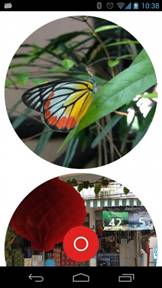 <![endif]>
79. Runkeeper
Offers similar functionality to popular sports tracker Endomondo, only withRunkeeper you get a more Android-like design, integrated support for music playback and audio coaching, a camera option so you can include images with your workout details and much, much more.
There are also goals to set, customisable routes for tracking your favourite runs, plus it's compatible with physical heart-rate monitors if you take it all very, very seriously indeed.
<![if !vml]>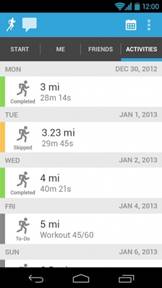 <![endif]>
80. DashClock
DashClock is an extremely clever widget that completely replaces the lock screen on any devices running Android 4.2 or higher.
The clever thing about it is its support for additional plugins that are available on Google Play, so you can further adapt your phone or tablet's lock screen to include weather data, a shortcut to a torch, advanced battery data and more. An incredibly versatile system that adds loads more fun toys to Android's standby modes.
<![if !vml]>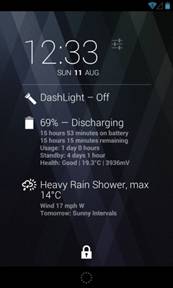 <![endif]>